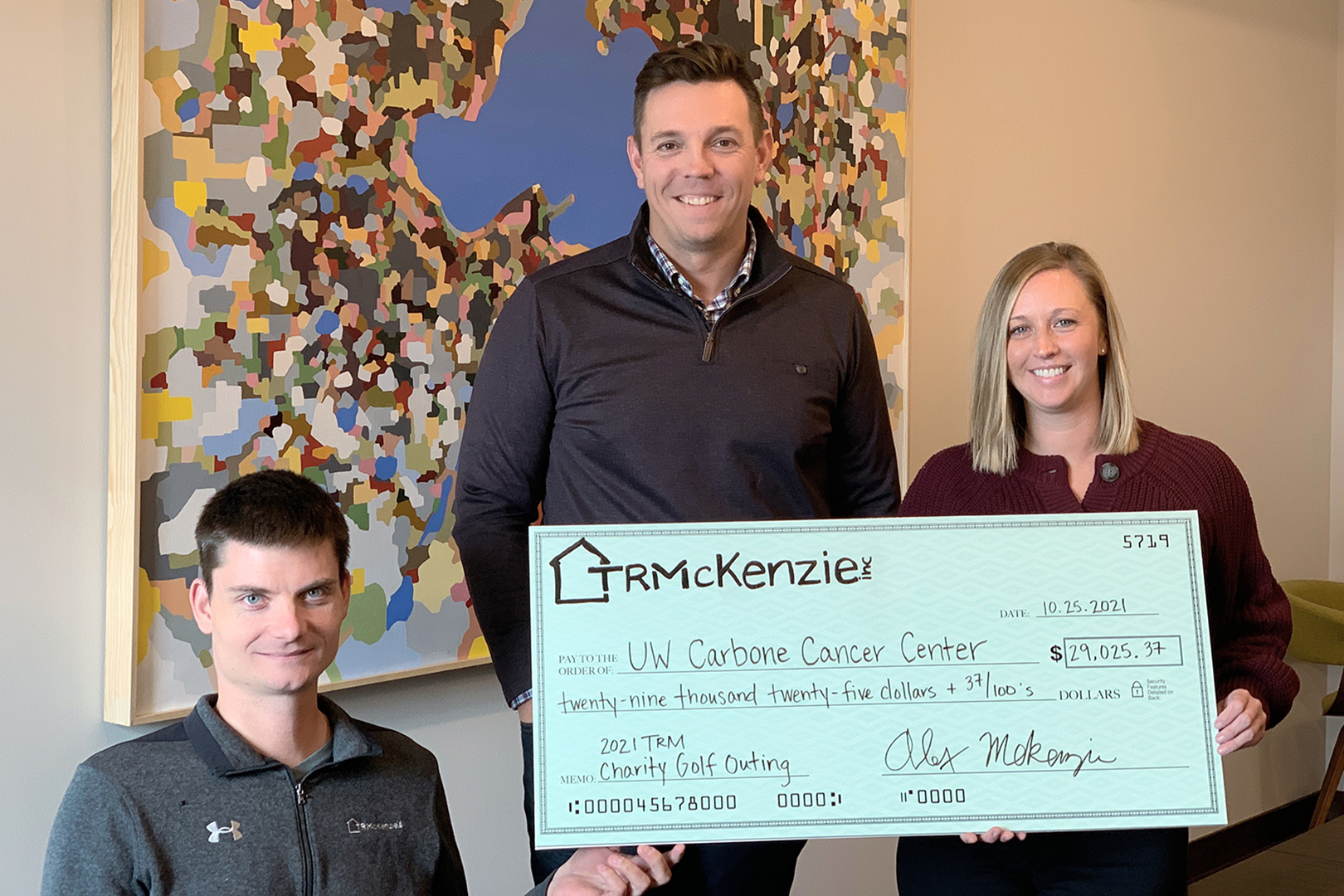 (Pictured above from left to right: Alex McKenzie, Andy Crooks, and Ellen Meier.)
TRM's 3rd Annual Charity Golf Outing
Our final donation to UW Carbone Cancer Center is…
$29,025.37
We are proud to have completed another TRM Charity Golf Outing for UW Carbone Cancer Center. Taking a year off from the event and the added struggles throughout the community due to Covid-19, we didn't know what to expect. But this year, we raised more than we ever have, thanks to our generous sponsors and a record number of participants (174 golfers). Thanks to Ellen Meier who helped plan the event, and to the many T.R. McKenzie employees and friends who volunteered their time to help the event run smoothly. Our host – Pleasant View Golf Course in Middleton is always great to work with and helped us raise additional money by donating proshop items for our raffle.
We are proud to donate all of our proceeds to UW Carbone Cancer Center for a third year, in honor of the late Tim McKenzie who founded our company back in 2003. We are looking forward to 2022 and setting our goal even higher!
We have several sponsors we'd like to thank and hope you keep these local businesses in mind when you are looking for partners or services.
Presenting Sponsor
Wintrust Commercial Banking at Town Bank, N.A.
Cart Sponsor
American Heading & Air Conditioning Inc.
Lunch Sponsor
Bachman Construction
Appetizer Sponsor
Axley Attorneys
Game Sponsors
Vizance
First American Title
T.R. McKenzie Realtors
Four Winds Farm
Hole Sponsors
Advertisers Press Inc.
Apartments.com
BD Clean LLC
Cat5 Restoration
DesignWell Interiors
Destree Architects
General Purpose Movers
Guild Mortgage
Hellenbrand Brothers Excavating
Herman Landscaping
Herzing University
Hottmann Construction
Hometown Drywall
Integrity Grading Excavating
Knothe & Bruce
Members Trust Company
Morgan Stanley Forward Group
Pella Windows and Doors
Nonn's Kitchen Bath & Flooring
Oregon Community Bank
Robin Hill Landscaping & Lawn Care
SelectOne Mortgage
Sherwin Williams
Verdanterra
Vierbicher
Walker & Dunlop
1901