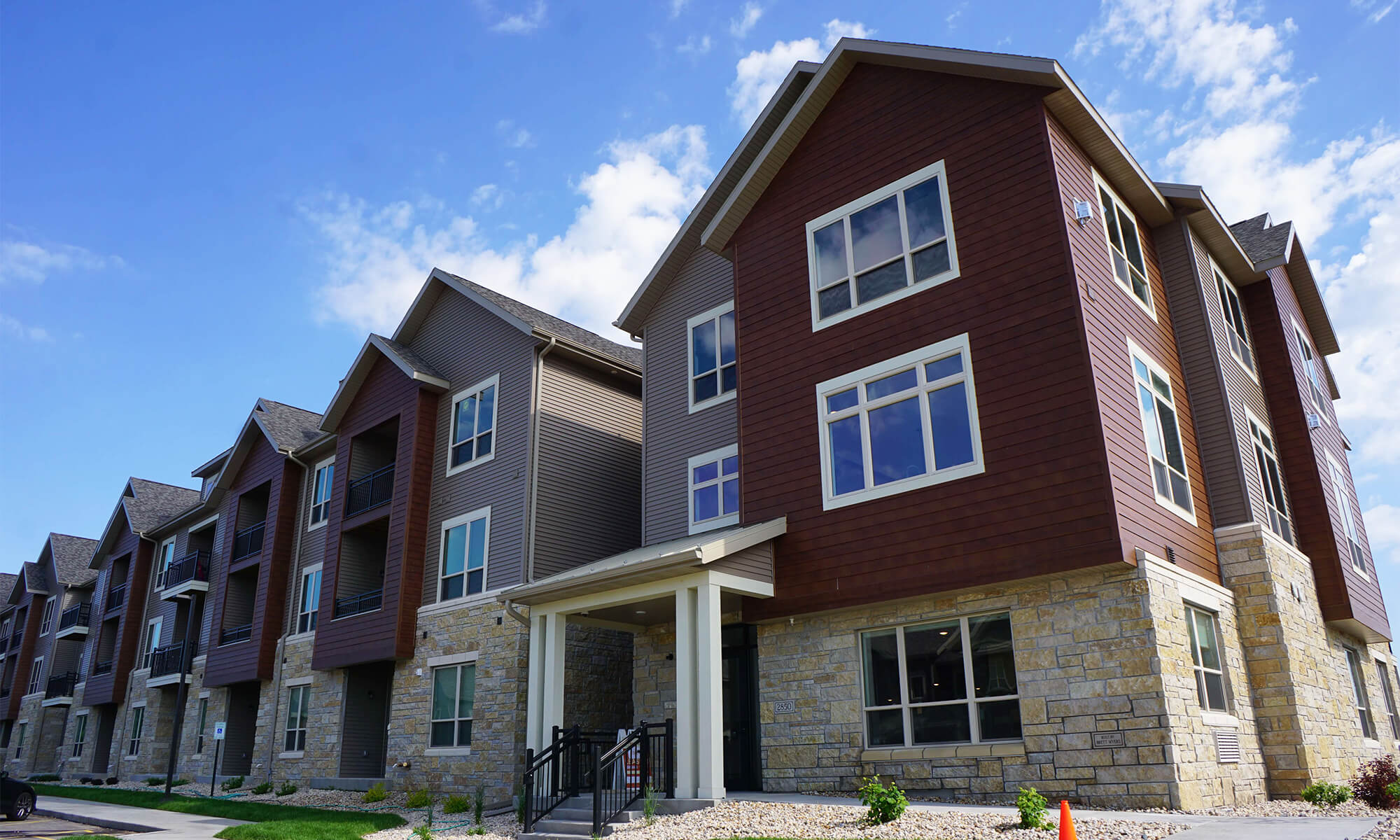 The Grand Opening of Esker Apartments and Townhomes
Madison, Wisconsin
T.R. McKenzie recently completed the first phase of its newest multi-family rental property, Esker Apartments. Located on Madison's far west side, Esker is in a great location, near many walking trails and greenspace right next to Verona. This project is close to walking trails and permanent open space, and has proven to be a desirable location to a wide range of tenants.
After almost two years of land negotiations, the parcel (located on S. High Point Road north of McKee Road) was closed on in December 2018. After over a year of design and city approvals, the team broke ground on this exciting project early 2020. Early in the process, architect Knothe Bruce, engineer Vierbircher & Associates, and interior designer DesignWell Interiors were involved, helping T.R. McKenzie create a vision for this property and incorporate new features into these apartments, like a two-story clubhouse, co-working common areas, pet-friendly outdoor space, and more working-from-home style layouts.
The term Esker, meaning "glacial ridge" was inspired by nearby Ice Age Trail and neighboring Prairie Ridge conservancy. The surrounding roads and floorplan names all fall into the glacial/outdoor theme and the property is ideal for those who love the outdoors.
Along the way, there were some unique building challenges. The adjacent stormwater retention pond was originally designed to take runoff from the Esker property but it wasn't working effectively. To solve this, the team built our own stormwater facilities (including underground systems) into the site to handle 100% of our potential runoff to help mitigate any downstream issues. There were also labor and material shortages and delays due to Covid-19. Thankfully, the team was able to make up time and work around these challenges to open on schedule. And for the first time in TRM's history, this property was 100% leased prior to the grand opening – a huge accomplishment for the property management team and a testament to the quality and style of the finished product.
When building Esker, we wanted to incorporate some unique features to make it feel more like home rather than a standard apartment building. Walking into our main building, you'll be greeted with a two-story open air clubhouse, something the team has never tried before. Our large fitness center, property management office, and coffee-house style business center are on the first floor, with additional hang out space, a gaming area, a rentable community room and chef's kitchen on the second floor. With so many people shifting to a work-from-home schedule, our large common spaces have proved to be an invaluable asset to Esker. Working with DesignWell Interiors early on allowed us to incorporate more custom features than on previous projects, and our interior furnishings by Katie Lochner Interiors brings the whole space together. We carried the same interior aesthetic through from our common areas to our apartment and townhome units as well.
Another exciting addition to this property is the third floor of the clubhouse, will serve as our new office space for the T.R. McKenzie Real Estate and construction team. We are excited to expand this space and have Esker be the hub for future T.R. McKenzie Realtors.
As we move forward to additional phases of completion, Esker residents can look forward to an outdoor pool, dog run area, as well as fruit bearing trees and shrubs. When completed, this property will have 202 total units.
T.R. McKenzie to thank our partners who helped make Esker a reality! Special thanks to: Knothe & Bruce Architects, Vierbicher & Associates, DesignWell Interiors, Katie Lochner Interiors, Hellenbrand Construction, Hottmann Construction Quest Framing, Sutter Plumbing, Town Bank, JK Security, Nonn's Kitchen/Baths/Flooring/Appliances, Hein Electric, American Heating/Cooling, Parisi Construction.
If you are interested in getting on the waiting list for future openings at Esker, email jessie@trmckenzie.com. Future townhome buildings are expected to be completed in January 2021 and apartments will be coming available in Spring 2022.