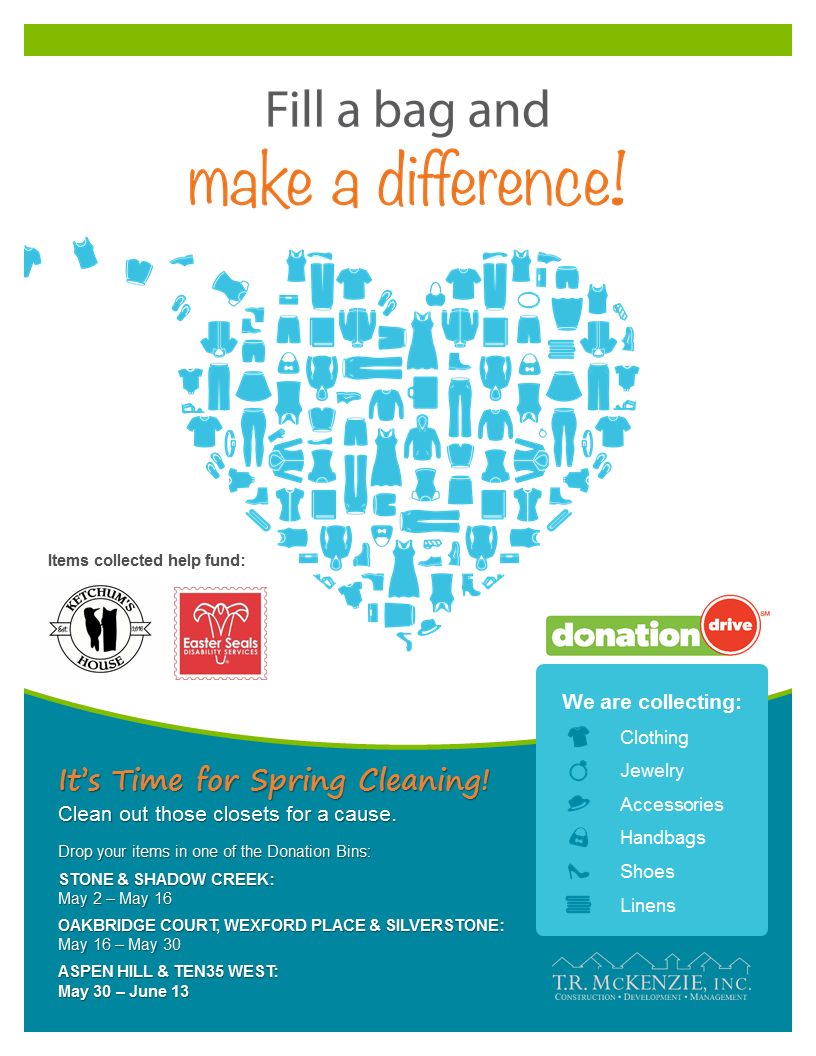 If you're like me, you're always looking for ways to simplify and declutter when the seasons change – particularly in your closet. The best part about saying goodbye to that unflattering blouse or a pair of jeans you no longer wear is knowing that they can help clothe someone in need. Or even better, you will have room for new clothes this season!
T.R. McKenzie is happy to provide an outlet for you this spring cleaning season.
We are hosting a clothing drive during the entire month of May into June. We are collecting clothing, jewelry, bedding, accessories, handbags and shoes, but any and all clothing items are welcome!
Your clothing donations are a small yet important way to help fund both Ketchum's House and Easter Seals Wisconsin.
Please consider joining us in this effort whether you are planning on dropping off a bag of clothes or just a single item, know that a donation of any size is helpful.
Clothing Drive Dates and Locations
Stone and Shadow Creek Apartments: May 2, 2017 – May 16, 2017
Oakbridge Court, Wexford Place & Silverstone Apartments: May 16, 2017 – May 30, 2017
Aspen Hill & Ten35 West Apartments: May 30, 2017 – June 13, 2017
For questions or to arrange item drop off contact 608.848.0111 or sam@trmckenzie.com
About Ketchum's House and Ride
Ketchum's Ride is a 101-mile bicycle ride benefitting Ketchum's House, a non-profit organization in honor of the late Sgt. Brandon Ketchum. Ketchum's House is a support group and retreat for veterans suffering with PTSD and their families. Brandon Ketchum was a veteran of the Marines and Army National Guard who suffered from PTSD and eventually took his own life. Brandon was a Wisconsin Dells High School graduate.
Ketchum's Ride is planned for September 9th, 2017.  There will be a gathering at the VFW in Reedsburg after the ride.
About Easter Seals Wisconsin
Nearly 1 in 5 Americans will experience a disability at some time in their lives. In Wisconsin, that translates to nearly one million people. And, too often, people with disabilities are unable to access the services and support they need.
For 90 years, Easter Seals Wisconsin has provided a variety of programs for people with disabilities including vocational rehabilitation, respite services, camping and recreation, information and referral, and public education. Services are designed to help people with disabilities live independently, become self-sufficient and enjoy life more fully.
One of the oldest, charitable organizations in the state, Easter Seals Wisconsin currently serves close to 10,000 children and adults with disabilities and their families each year throughout Wisconsin.
Sources: eastersealswisconsin.com