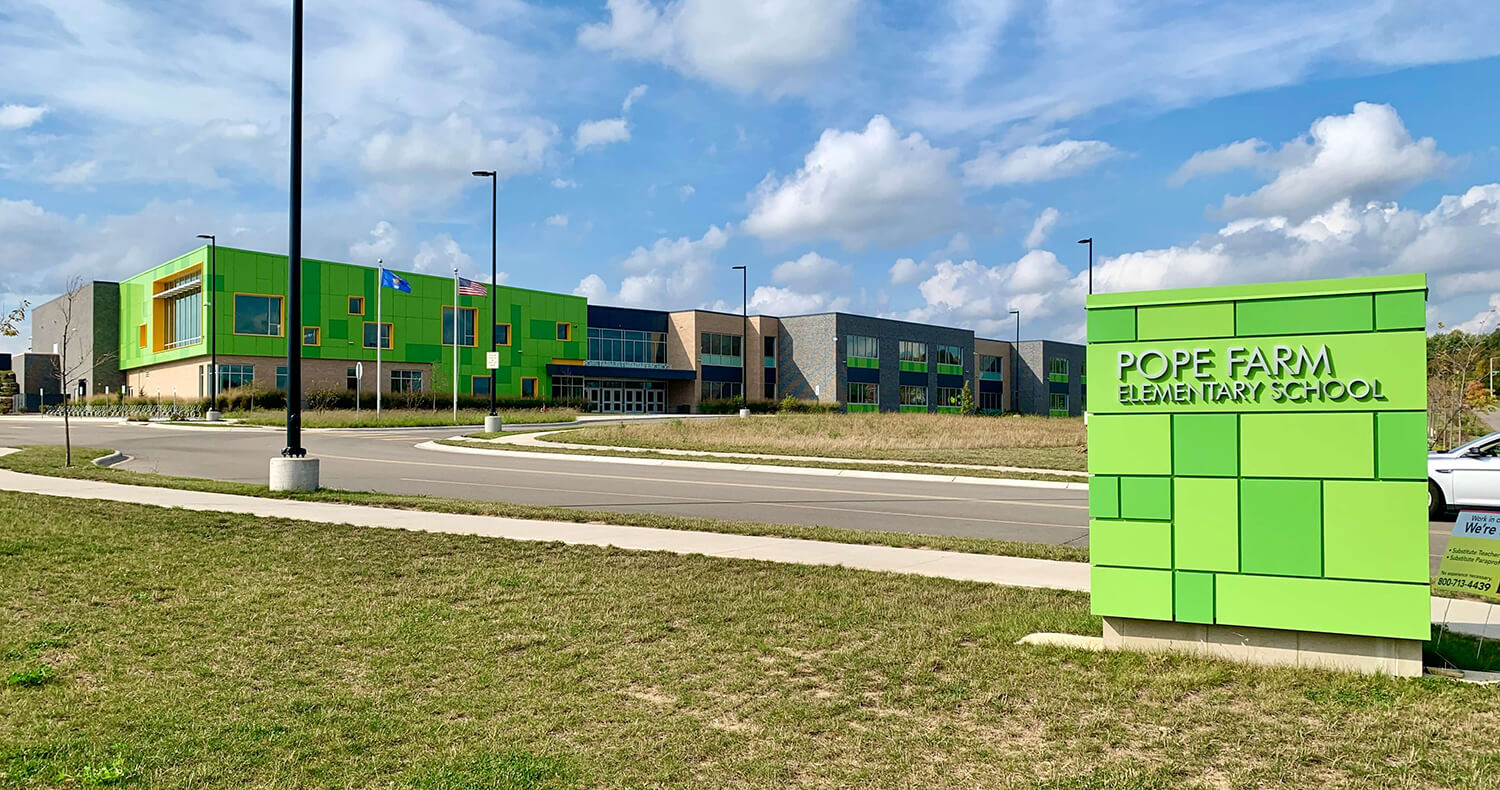 Middleton Cross Plains Area School District Real Estate Market Report
The Middleton Cross Plains Area School District (MCPASD) serves residents of several municipalities and townships in Dane County. This includes all or most of the City of Middleton, Village of Cross Plains, Town of Middleton, Town of Cross Plains, Town of Westport, City of Madison, Town of Springfield and the Town of Berry. With the district spanning over 78 square miles, many of our clients looking to buy or sell are in the MCPASD. Here is a look at the 2023 year to date housing market in the MCPASD compared to the previous five years. (All data spans from 1/1-5/31 for each year).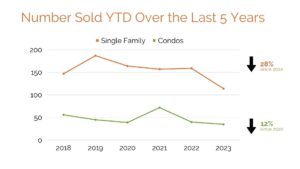 After a steady 2021 and 2022, we saw a decrease in single family homes sold (114 in 2023) compared to a 5 year high of 187 in 2019. A decrease of 39% of from 2019 and a 28% decrease from 2022.
The number of condos sold in the MCPASD are down over 51% from their peak in 2021, however just down 12% from 2022.
The Takeaway:
There are far less homes/condos for sale now than in years past. This is due to many people locking in lower interest rates or refinancing in recent years. As you'll see in the graph below, despite home values increasing drastically, many homeowners are staying put as the cost of "moving up" to a larger home is out of reach with higher rates and sale prices.
So who is selling?
Many of the homes hitting the market are from those who are downsizing, relocating, or have had a major family event (kids, divorce, marriage, etc.)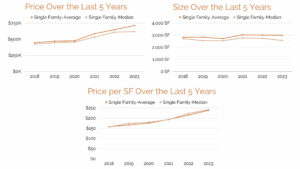 Single family homes in the MCPASD have taken off in the last 5 years with over a 60% increase from 2018. Paired with relatively constant square footage, you can see why there has been a proportional increase in price per square foot.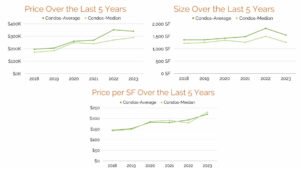 Condos have experienced a similar trend for condos sales in MCPASD with the average price upwards of $340,000 in 2023 – more than a 42% increase from 2018. There was a slight dip in average price from 2022 to 2023 but that is mostly due to a handful of outlier properties causing the sharper rise in 2022.
Much like single-family homes, condo square footage has stayed constant since 2018.
The Takeaway:
Home values have continued to climb despite the recent rise in interested rates. Even with some buyers to put a hold on their home search, there are equally less homes/condos for sale, causing competition to remain high among buyers still bidding on available homes.
How many "less" homes are there?
A healthy housing supply is roughly 6 months. To put that into perspective as of April 2023 Wisconsin had 2.5 months of supply and Dane County is estimated to be even lower at just under 2 months of supply.

There have been 54 single-family homes sold in Middleton YTD in 2023 compared to 94 in 2019. A decrease of over 42% and roughly 29% from 2022.
Condos are following a similar trend in Middleton and are down 31% from their high in 2021, however compared to 2022, 2023 has been the exact same with 28 condos.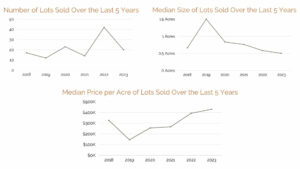 With a rise in demand for housing we are seeing the value of land (especially in the MCPASD) climb to over $400K an acre YTD in 2023.
Average lot sizes are around 0.5 acres with a median price tag of $215K
What does the future look like for land in the MCPASD?
There are few development projects at various stages. There are some larger lots available in the Town of Middleton with some others projected in the next year or so. There are also two master planned communities of various housing types planned for the north side of the City of Middleton with some construction options projected to be shovel ready by spring or sooner.
Want more info? CONTACT US at realestate@trmckenzie.com or SUBSCRIBE HERE.
Want to search current, available properties for sale in the MCPSD? CLICK HERE
Madison Real Estate | Verona Real Estate | Wisconsin Real Estate | Dane County Real Estate | Madison, WI | Verona, WI | VASD | Verona Area School District | Madison Realtors | Verona Realtors | Middleton Real Estate | Middleton Realtors